About Tahoe Web Company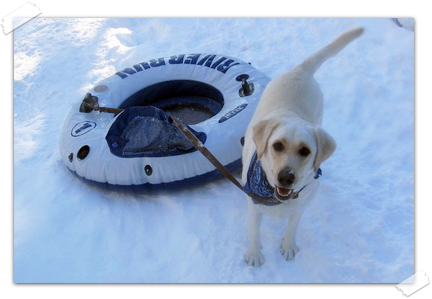 Hello, I'm Bailey!
Support Staff (or, Princess Ruler of Everything)
I'm a mellow, sweet loving English Cream Labrador, and I'm a ham bone. I provide moral support and training duties, making sure the staff gets outside to play several times a day. My hobbies are swimming, chewing sticks, digging holes, packing my 'babies' around (e.g., moose, giraffey), playing in the hose, roaming the disc golf course, and spending time with my parents. My favorite treats are barbecued raw-hides!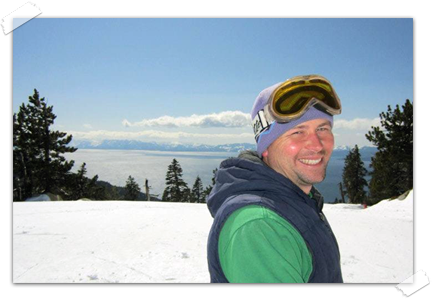 Hello, I'm Brian!
Lead Web Designer & Developer
I grew up in a quaint, foothill town at the base of the Sierra Nevadas called Nevada City. To say the least, my passion has always centered around the great outdoors. When I'm not at my computer, you'll find me running, snowboarding, golfing, or surfing (to name a few). In 1996, I moved to San Luis Obispo to pursue my education goals, and I am proud to say, I'm one of the lucky few who decided to stay and enjoy the SLO Life!
In 2001, I earned a Bachelors Degree from Cal Poly in Computer Science, and soon after started my first company JSOL Software.
In 2005, I earned an MBA from Cal Poly and I also founded a 501c4 non-profit named the SLOThrowers, a group solely responsible for the construction of 3 Professional Disc Golf Courses in San Luis Obispo County.
From 2005 through 2010, I was a lead Full Stack Web Developer (Specializing in Custom WordPress Theme Development) for several different web design companies, where I managed hundreds of accounts across the United States.
From 2010 through 2015, I was contracted to develop modern Cal Poly Departmental web sites, bringing them up to current coding standards, and assisting with the maintenance of up to date content.
In 2014, Lanie and I moved to the Lake Tahoe area, where I began developing cutting edge, custom WordPress web sites. Soon after, Tahoe Web Company was born!
From January 2017 to Present Day, I have been the Lead Developer for GolfMDs.com / ThrivSports; building & managing hundreds of golf coach & golf facility web sites. If you are a Coach, or a Coaching Facility please feel free to contact ThrivSports to Elevate Your Business!
From November 2019 to Present Day, I have also been the Lead Developer for Poor Richards Press, where my responsibilities are to develop cutting edge web sites for small to medium size businesses that compliment their printing & media needs.
Hello, I'm Lanie!
Content Editor & Quality Assurance
I hail from the mountains of North Georgia, where I grew up exploring the creeks and forests of the Blue Ridge Mountains / Great Smoky Mountains. I earned my B.S. at the University of Georgia before moving to San Luis Obispo, CA, where I earned my M.S. in Chromosome Biology. I am currently a Ph.D. student at the University of Nevada, Reno, studying in the Ecology, Evolution, and Conservation Biology program. Over the years, I've developed a close relationship with writing, and as such, can provide both quality content construction and comprehensive editing. Tahoe Web Company was developed with sustainability in mind, harnessing the fervor Brian and I hold for preserving the Tahoe Basin and applying it to web development. When I'm not deep in research, you can find me immersed in the outdoors, where I can be found running the Tahoe Rim Trail, snowboarding Diamond Peak, or sunning and swimming the crystalline waters of Zephyr Cove alongside Brian and Bailey.